Concrete Batching Plant for Sale in Mauritania
Mauritania client has just asked hzs50 batching plant quote for road construction. Although it's the first day of spring festivel vacation, I still decide to make exact quotation for him. Not only because he is my old customer, but I want to get the deal in the new year. After sending the hzs50 quotation email, I asked him about the hzs25 batching plant he bought the year before. It seems he likes it very much, and he makes good profit from the small batching plant.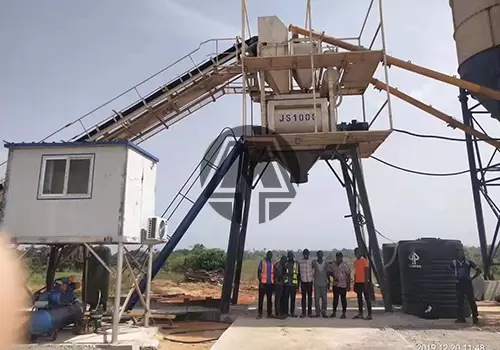 hzs25 batching plant for sale in Mauritania
It's the first cooperation between us, he asked a mini batching plant. I recommended hzs25 batching plant and self loading concrete mixer, while he chose the former one. At that time, I was just graduated from college, I didn't have much experience how to talk with customers, I just tried to give the information that the customer wanted. I send him the hzs25 quotation, but he didn't respond me at once. I thought maybe he got better price from others, while I was ignored. Two days later, he told me that he wanted our batching plant, he said he had just persuaded his business partner that proposed another european brand batching plant. I was excited cause I have been refused many times by others, and I almost wanted to give up.
The Mauritania client was quite professional for the concrete batching plant, he knew exact what he wanted and he had his own engineer, and even the batching plant was installed by himself. When the batching plant got to the working site from the port, he sent me pictures happily.

hzs50 batching plant for road construction
This time, he needs to pour concrete for road, his business partner has recommend him some machine, and he isn't very satisfied with them, so he asked quotation from me. I advise him hzs50 batching plant, hzs50 could produce 50m³ concrete per hour, it's equipped with JS1000 twin shaft mixer, the aggregate bunker has three bins for sand and little stones with seperated weigh. hzs50 not only has a reasonable capacity, but it's more easy to install and transport with lower foundation costs, which is the best choice for road building.