Concrete Pumping Equipment
Concrete pumping equipment can be divided into the following three categories: concrete pump trucks, trailer concrete pump and truck-mounted concrete pump.
Concrete pump truck
The concrete pump truck is a machine that uses pressure to continuously transport concrete along a pipe. It consists of a pump body and a delivery tube. According to the structure, it is divided into piston type, extrusion type and water pressure diaphragm type. The concrete pump truck is equipped with a power transmission device, a pumping and stirring device, a cloth device and other auxiliary devices on the chassis, and a retractable or inflected cloth boom is assembled to form a pump truck.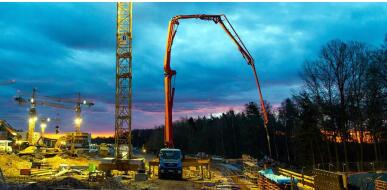 through the power transfer box, it transmits the power of the engine to the hydraulic pump group or the rear axle , and the hydraulic pump pushes the piston to drive the concrete pump to work. The concrete is then transported to a certain height and distance using the booms and ducts on the pump.
Trailer Concrete Pump
The trailer concrete pump, also known as the tow pump, is used for conveying and pouring work in concrete construction. It transports by a trailer when moving; it requires additional support pipes when working. The delivery height and distance of the trailer pump can reach several hundred meters, which far exceeds the truck-mounted concrete pump. However, it is not flexible enough.
Truck-mounted Concrete Pump
The truck-mounted concrete pump integrates the superiority of the trailer pump and the pump truck. It is more flexible than the trailer pump. It occupies less space than the pump truck. Meanwhile, the truck-mounted concrete pump has the characteristics such as low price, high pumping height and low maintenance cost.