JS750 Concrete Mixer
JS750 Concrete Mixer
JS750 twin shaft compulsory mixer is a new type of concrete mixer that has integrated international advanced concrete technology with a reasonable structure design and exquisite technique, which can be used to mix dry-hard, plastic, fluid concrete and light weight aggregate and various mortar. Our standard JS750 concrete mixer is equipped with strong skip hoists and steel structure leg to help customer build a simple mixing plant.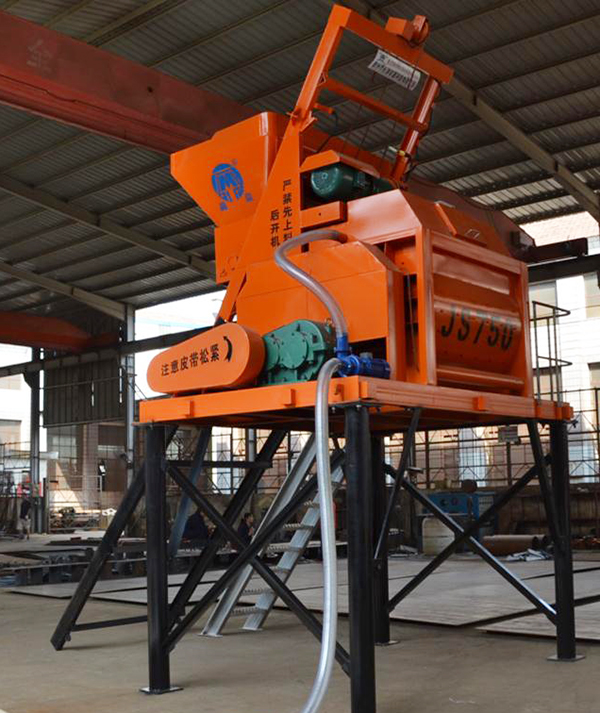 JS750 Concrete Mixer Product Details
Robust mixing tank

The mixing tank is made of extra-rigid material that reduces the risk of deformation during the transportation(or in container) and during the full load operation. In addition, it can directly support the weight of aggregates hopper and scales to form a simple engineering concrete plant that can greatly decrease the occupation area of the plant.

Shaft bearing and sealing

It is equipped with multiple protective layer for the mixer shaft end and it adopts two independent modular supported housings. The bearing and the seal are lubricated with liquid grease, which can effectively prevent the mixer shafts from wearing so as to prolong their service life.

Automatic lubrication

The twin shaft mixer uses the automatic lubrication system, and the automatic pump deliver the grease to the seal through a sequential distributor, which is beneficial to guaranteeing low grease consumption and negligible contamination of the mixing.

Hydraulic Power Pack

It is equipped with the pressure sensor in the hydraulic circuit to control the open and close of the mixer door, and in case of failure or blackout, the operator can use manual pump to cope with the emergency discharge.
JS750 Concrete Mixer Features
Independent Working

JS750 concrete mixer can be used independently at a number of situations like in the Concrete Industry as well as Industrial Plants (waste treatment, chemical industry, glass industry). It has the advantages of homogeneous end products, short mixing time, compact structure, aesthetic outline, stable and simple operation, etc.

As the mixer of simple concrete batch plant

JS750 mixer can be combined with PLD1200 batcher to form the simple concrete batch plant and controlled by the central computer system with the advantages of high level automation and high-quality mixing results.

Compact Structure

The discharge door of JS750 concrete mixer is driven by advanced hydraulic system. Compared with traditional driving method, it has the features of compact structure, stable operation and precise open-door positioning, etc.