JS500 Concrete Mixer
JS500 Concrete Mixer
JS500 Concrete Mixer is a mini compulsory twin shaft concrete mixer which capacity is 0.5m³ per batch. JS500 has the features of consistent mixing results, high efficiency, low energy consumption and low noise. JS500 concrete mixer adopts the latest mixing technology so as to it can meet the requirements for mixing various concrete such as dry-hard concrete, plastic concrete, mortar, light aggregate and so on. It is the ideal concrete mixing equipment for medium and small sized building, bridges, highways projects or simple concrete batching plant.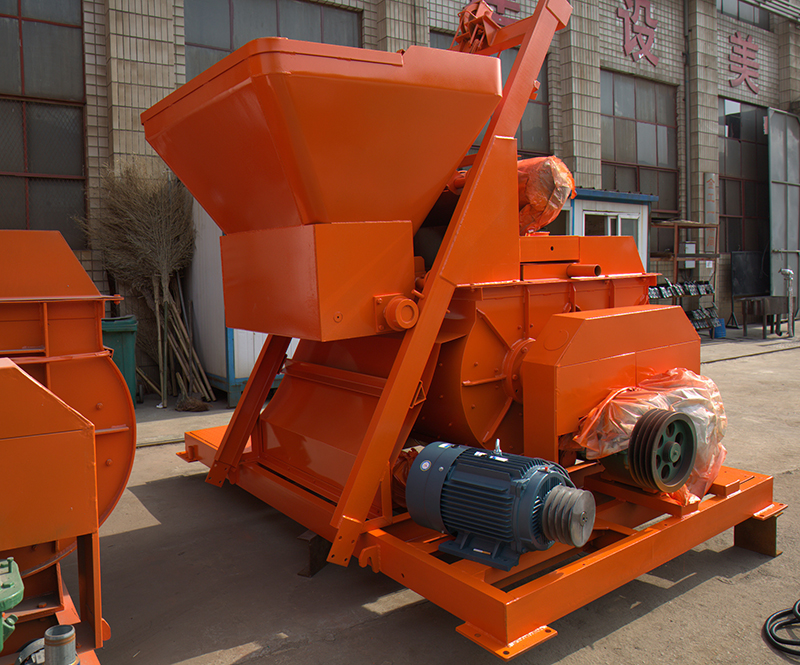 JS500 Concrete Mixer Product Details
Mixing System

The mixing system of JS500 consists of a mixing tank, shafts, arms, blades and side blades. There are two horizontal mixing shafts with a number of blades in the tank while there are many side blades in the mixing arms near to the tank, which can scrape the concrete on the end face and change the flow direction of the concrete.

Charging System

Put the prepared materials into the hopper and start the charging control system. The wire rope pulls the hopper to climb towards the mixer. When it climbs to a certain height, the hopper will enter into the feeding platform, and the door of the hopper will automatically open, so that the materials will be charged into the mixer through the funnel.

Water Supplying System

The water supply system includes a drive motor, water pump, throttle, cleaning device, spraying pipe, etc. Water will be delivered to the spraying pipe by water pump through the throttle that can regulate the water flow.

Discharging System

The discharging system is composed of a discharging door, air cylinder or hydraulic cylinder and there are 3 different methods to control the discharging system: hydraulic, air, and manual methods. The discharging door is set at the bottom of the mixer and controlled by air cylinder or hydraulic cylinder to discharge materials. Additionally, there are two limit switches setting at the top of the door around the left and right side respectively to control the open and close position of the discharging door. You can also adjust the position of sealing strip to ensure the sealability of the door.

Electric Control System

Camelway JS500 twin shaft mixer is equipped with air switch, fuse, thermorelay with the function of short circuit and overload protection. All control buttons, air switch handles and indicator lights are set on the door of distribution box and have the door locks. Additionally, there is a protective cover on each button. The electrical components in the distribution box are installed on an insulation board with high security and simple operation and maintenance.