JS1000 Concrete Mixer
JS1000 Concrete Mixer
JS1000 mixer, one kind of twin shaft compulsory concrete mixer, has a wide rage of applications in mixing dry-hard and light-weight aggregate concrete with an intense agitation and homogeneous mixing effect.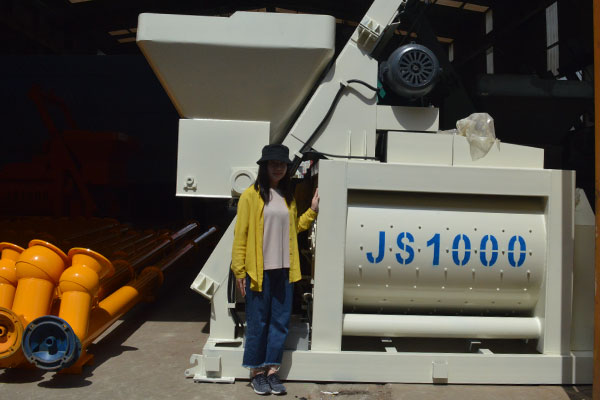 JS1000 Concrete Mixer Product Details
Gearboxes

There are two kinds of gearboxes can be optionally used in our twin shaft mixer: planetary reducer and cycloidal reducer.

Planetary gear reducer is transmitted through the belt which can avoid damage to other components.
Cycloidal gear reducer is transmitted by the impact force of the gears that can generate the forceful power to drive the machine.

Limiting Device

It is equipped with a limit switch at the mixer host cap. The automatic power off function of mixer motor will take effect when you open the door, which is conductive to repairing and maintaining the whole machine.

Coupling Device

The coupling device is used to connect the driving shaft and the driven shaft so as to they can rotate together to transit the torque.

Electric Control System

Camelway twin shaft mixer is equipped with air switch, fuse, thermorelay with the function of short circuit and overload protection. All control buttons, air switch handles and indicator lights are set on the door of distribution box and have the door locks. Additionally, there is a protective cover on each button. The electrical components in distribution box are installed on an insulation board with high security and simple operation and maintenance.

Inspection Platform

There is one inspection platform setting around the twin shaft mixer that is necessary for the mixer's inspection and maintenance, and it adopts the modular design with a simple installation.
JS1000 Concrete Mixer Features
Thicker mixing shaft: In order to ensure the wear resistance of the mixing shaft, our company adopts the special high-chromium wear parts that chromium content ≧ 26%. The mixing shaft has been fundamentally optimized, the diameter is 10mm thicker than the domestic industry.

High mixing efficiency: CamelWay Machinery independently research and develop mixer reducer planetary transmission method and adopts well-known domestic manufacturers rotary support to ensure the reliable quality. All gears have been under grinding processing. It has the characters of low running noise, large output torque, high stability, and make it suitable for a variety of high-intensity, high-load working conditions.

Simple centralized control: It adopts the centralized control box which is full-featured and simple and easy to operate. The components adopts domestic well-known brands and imported brands, making it a greater helper in the mixer production process.

Shaft end sealing: Shaft end sealing mainly consists of wear-resistant rubber, labyrinth seal and floating seal multi-seal combination. The structure is solid and reliable and durable,and do not leak pulp. All seals are easy to disassemble and replace, making it more suitable for all kinds of bad working conditions.

Enhance motor and enhance hopper: Our company adopts the independent research and development enhance motor. It has the characters of large output torque, high stability, large enhance hopper capacity, short track and higher efficiency.

Wearing parts: The mixing arm adopts high strength wear-resistant steel castings and oval design to ensure smaller material resistance, more smooth flow, thick solid and long service life. Lining adopts thicker design, and the material adopts high chromium wear alloy cast iron that has excellent wear resistance and impact resistance.