Does it worth to Investment a Concrete Batching Plant?
Yes! Concrete Batching Plant is an excellent business that can make a lot of money for your company! Firstly, you can always sell concrete - and ensure your cash flow by properly setting up processes. Secondly, you can service the construction projects - this will give speed (now the deadlines concrete at your fingertips), price (you are now a manufacturer) and of course quality!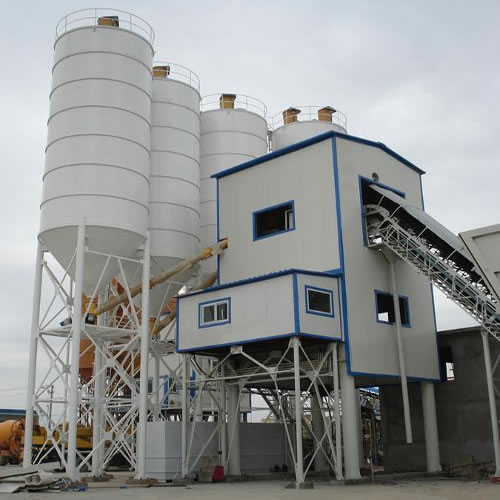 Now you can control all the processes of preparing your concrete yourself. We will help you - choose the most suitable equipment, understand all the technical nuances, protect against errors when buying a concrete batching plant and, most importantly, we will service your plant from year to year - monitor the quality and the work of your factory!
Here I'd like to list some of our concrete batching plant for sale, if you have any questions, please contact me, I am very grad to answer your questions.
skip hoist concrete batching plant
| | | | | |
| --- | --- | --- | --- | --- |
| Model | HZS25 | HZS35 | HZS50 | HZS75 |
| Capacity (m3/h) | 25 | 35 | 50 | 75 |
| Mixing Time (s) | 60 | 60 | 60 | 60 |
| Max Aggregate Size (mm) | 40/60 | 40/60 | 60/80 | 60/80 |
| Discharging Height (mm) | 3800 | 3800 | 4000 | 4000 |
| Total Power (kW) | 60 | 70 | 80 | 90 |
| Total Weight (Ton) | 25 | 30 | 50 | 54 |
| Total Dimensions (m) | 15×8×12 | 15.2×8.5×15.4 | 18.2×10×19.4 | 18×10×19.4 |
Belt Conveyor concete batching plant
Entire Plant
Model
HZS60
HZS90
HZS120
HZS150
Capacity (m3/h)
60
90
120
150
Standard Discharging Height (mm)
3800
3800
4000
4000
Operation Cycle Time (s)
60
60
60
60
Max Aggregate Size (mm)
60/80
60/80
60/80
60/80
Total Installed Power(kW)
105
145
210
260
Total Weight (T)
50
60
80
100
Size (m)
(L×W×H)
28.5×10.6×18.8
58.6×12.4×18.8
60.2×13.7×18.8
43.6×24.0×18.8
Mixing System
Mixer
JS1000
JS1500
JS2000
JS3000
Mixing Motor (kw)
2×18.5
2×30
2×37
2×55
Batching System
Batching Machine
PLD1600
PLD2400
PLD3200
PLD4800
Capacity of Storage Hopper (m3)
4×5
4×10
4×18
4×25
Weight System
Aggregate Weighing Precision (%)
±2
±2
±2
±2
Cement Weighing Precision (%)
±1
±1
±1
±1
Water Weighing Precision (%)
±1
±1
±1
±1
Additive weighing Precision (%)
±1
±1
±1
±1