Concrete Batching Plant for Sale DRC
Recent years, more and more Affrican customers choose Chinese batching plants to build house, especially clients of Democratic Republic of the Congo's. Camelway sells batching plants over the world, it has offered more than three batching plants to DRC to support it city development.
25m³ batching plant for sale in DRC
hzs25 batching plant could produce 25m³ concrete per hour with js500 twin shaft concrete mixer. This concrete plant is used for making bricks, the client bought a second-hand brick making plant from his friend, he plans to build a brick line to produce 3000 concrete bricks per day. Finally he chose Camelway hzs25 batching plant after serious comparation.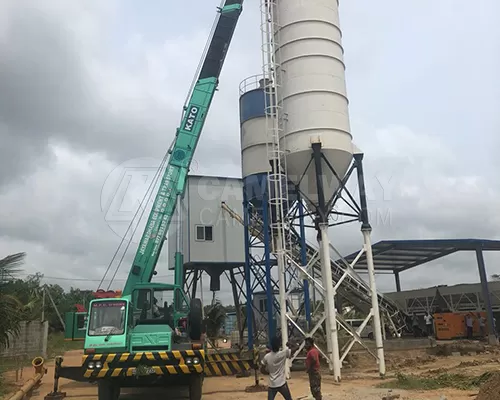 50m³ batching plant for sale in DRC
This client adapts hzs50 concrete plant for concrete supplier for bridge, it could supply 50m³ concrete per hour with js1000 concrete mixer. The client is a famous concret supplier in DRC, he has many other old batching plants from Schwing Stetter. And this is the first cooperation with Camelway, he planed to replace his old equipment regularly, including pumps, mixers and other concrete machine.
75m³ batching plant for sale in DRC
The client chose hzs75 batch plant to produce concrete tubes last year, he was very satisfied with its efficiency and automatication. Now he planned to buy another Camelway batch plant to expand his business in the near city.