Small Concrete Batching Plant for Sale
Concrete Batching Plant is a concrete mixing equipment that widely used for building modern construction. Compared with large batching plant, small concrete plant usually has a compact design and less footprint, and a lower capacity(20-75m³/h) with total electric consumption of 55-110kw/h. Instead of belt conveyor, it mostly adapts the skip hoist to transport the raw material(aggregate, sand, little stone and fly ash) to the mixer.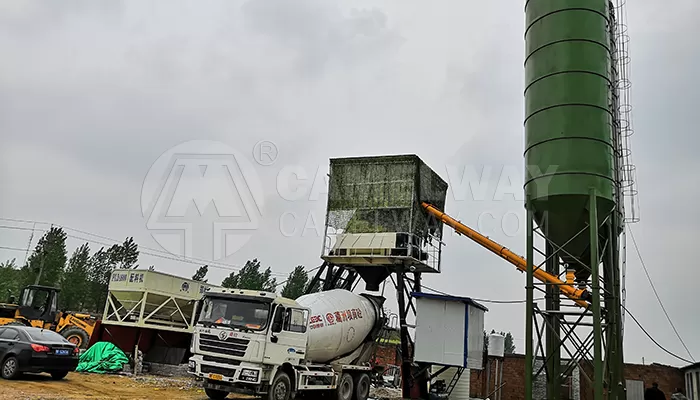 Small Concrete Batching Plant Price
Its FOB price is 19,000usd-67,000usd. You can leave your email adress to get quote. Except the equipment price, there are also some other elements should be consider about, such as ship cost, exchange rate and others.

Small Concrete Batching Plant Advantage and disadvantage
It's the best choice for small and short term construction project with reasonable price and flexible mobility, but it can't stand large project that need lots of high quality concrete, there are two reasons. First, Small Concrete Batching Plant is equipped with smaller concrete mixers(0.5-1.5m³) of small production capacity. Second, its batching machine usually has less aggragates bins, most importantly is the weighing system, which is the key point to ensure the concrete quality.

How to Get Suitable Small Concrete Batching Plant for Myself ?
The customized Small Concrete Batching Plant is the best for you, you can make choice according to which project will the Small Concrete Batching Plant used for and how many cubic meters concrete you need one day. Camelway Machinery is a Chinese concrete equipment manufacturer, it has researched and developed batching plants since 1983, it has successfully freely offered hundreds of customized batching plants solution for customers over the world, contact us if you need it.