Ulaanbaatar Concrete Batching Plant Manufacturer
Concrete Batching Plant for sale Mongolia
Ulaanbaatar is the capital of Mongolia. It is a city with strong customs and culture. What is unforgettable is the grassland that looks like an endless sight. Mongolia is sparsely populated, mineral resources are extremely rich, and there are a lot of resources to export. With the end of the financial crisis, Mongolia's economic growth rate has even leapt to the forefront of the world. This is due to the country's abundant resource advantages - with the world's most abundant coking coal reserves, Mongolia has achieved an economic growth rate of 17.3% in 2011, driven by the developed coal industry. Once upon a time, Mongolia has such an inexhaustible resource that the various miners and bankers from all over the world believe that it will become the next "golden country". Then the construction and development of the city is a matter of course.
manufacturer specializing in the production of concrete batching plants
Camelway is a manufacturer specializing in the production of concrete batching plants. It has installed many concrete batching plants in Ulaanbaatar, Mongolia. The concrete batching plant is an indispensable equipment for urban development and construction. It is a kind of rapid production of cement concrete mixing Equipment, many Ulaanbaatar customers just saw the business opportunities, chose to invest in concrete batching plants, and it turns out that their choice is correct.
HZS120 Commercial Concrete Batching Plant for sale
One customer bought a complete set of HZS120 Commercial Concrete Batching Plant in our company. the didn't trust our products before buying,It turns out that after half a year, the customer took the initiative to contact us and said that the principal was earned. The equipment is still intact, there is no problem,The customer also sent us a picture, let us look at his current production plant.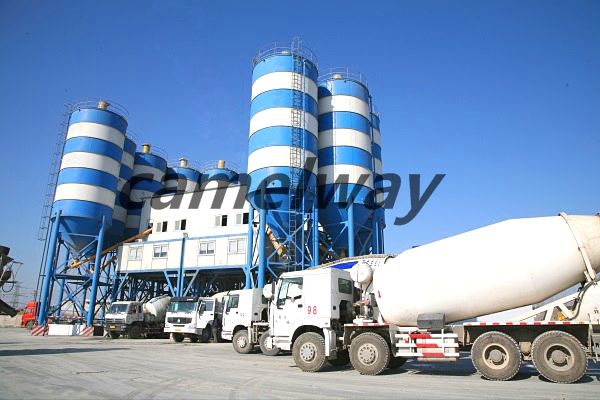 Camelway installed this customer with a double 120 concrete batching plant with a production capacity of 240 cubic meters per hour. The customer used to sell concrete.The HZS120 concrete batching plant is a large concrete batching plant. Many customers buy it to sell concrete, so many people also call it a commercial concrete batching plant.
As a manufacturer with thirty-six years of production experience, selling concrete batching plants to Ulaanbaatar, if you want to buy a concrete batching plant, you can contact us to visit our installed concrete batching plant.