Aggregate Batcher Classification
The concrete mixers and aggregate batchers play an important role in Concrete Batching Plants. The aggregate batcher is mainly used to weigh the aggregate of sand and gravel. Its accuracy directly determines the strength of the concrete. If the batching time of the aggregate batcher is long, it will affect the output of the concrete batching plant. Therefore, it is important for concrete plant to choose the proper aggregate batcher.
According to the working principle of aggregate batcher, Camelway divides the aggregate batcher on the market into four categories:
Continuous Aggregate Batcher
The continuous aggregate batcher adopts the flow metering method for batching. The matched electronic control system obtains the pressure and the value of material through the sensor. Its error is generally around ±6%. It is mainly used in continuous mixing plant.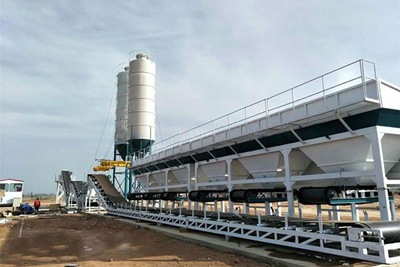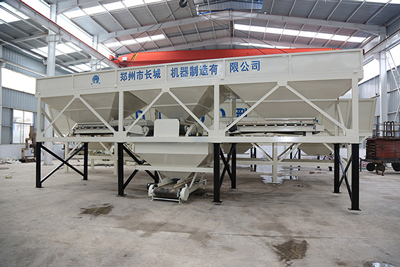 Accumulated Weighing Hopper Batcher
The accumulated weighing hopper batcher comprises a weighing hopper and a plurality of aggregate bins. When working, the materials of the aggregate silo are put into the weighing hopper in turn. After all the materials are weighed, the materials are transported by the belt. This machine has high precision, the error is ±2%. However, its production capacity is relatively low. It mainly uses in small concrete batching plants, concrete block factories, etc.
Accumulated Weighing Belt Batcher
The accumulated weighing belt batcher is without weighing hopper. It uses the belt to weigh. When working, the system directly discharges the materials onto the weighing belt; after all the materials are weighed, the weighing belt starts to rotate and all the materials are transported out. Its error is about ±2. It adopts the cumulative weighing.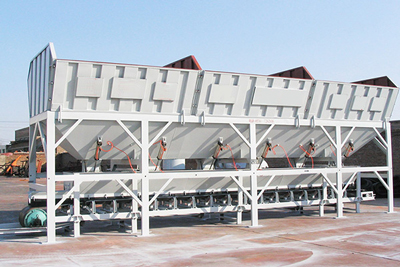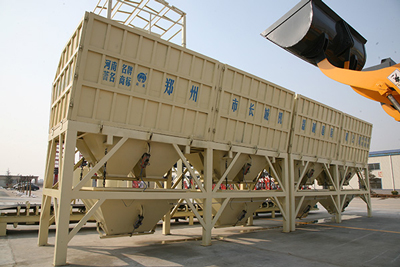 Independent Weighing Hopper Batcher
The independent weighing hopper batcher adopts a pneumatic opening door, and each aggregate bin has a weighing hopper underneath. When working, each hopper works independently, weighing at the same time. Then the material is discharged onto the belt and directly transported away. It is one most commonly used concrete aggregate batcher for medium and large batching plants has high output, stable operation and convenient maintenance.