Laos, located in the northern part of Asia's Indo-China Peninsula and bordering Yunnan in China, is an important cooperative partner of China in the ASEAN region. Boten Special Economic Zone in Laos is an important part of the Mohan-Boten economic cooperation zone that China and Laos co-build, which can take a leading role and generate a strong influence towards Laos' economic development.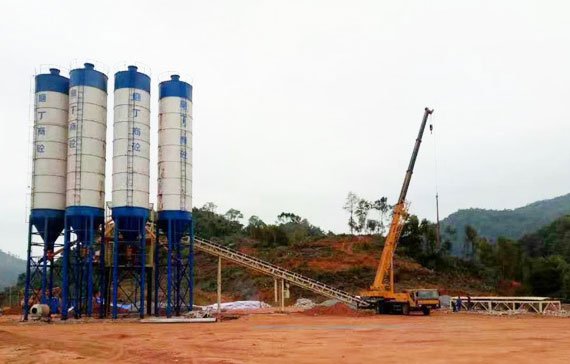 Recently, one set of Camelway HZS120 concrete batching plant was installing and commissioning successfully at Boten Special Economic Zone, which was used as the ready mix concrete plant to supply the concrete demand of surrounding areas' infrastructure construction. After the installation team finished the installation work of the concrete plant, it will stably promote and ensure the construction process of the whole engineering project.
HZS120 is equipped with a high quality twin shaft mixer, suitable for the production of ready mix concrete as well as for even higher quality concrete e. g. for prefabricated concrete elements.
This was the first time for Camelway Machinery to take part in the construction project of Laos special economic zone. Thanks for the trust of our customer, we would offer the best service in order to make contributions to the China-Laos economical cooperation zone.
At present, the commissioning of the HZS120 concrete batching plant is normal and it will be put into regular operation, which will produce about 1000m³ per day after the operation.