Concrete Batching Plant for Sale Niger
In Niger, China's concrete batching plants are more popular than Western countries, because Chinese batching plants are cheaper with guaranteed quality. Camelway's small concrete concrete plant with an output of 20 to 50 m³ per hour is selected by many customers locally. The concrete produced by the batching plant has better quality and high degree of automation, and is suitable for various project like bridges, roads, buildings, water conservancy projects, etc. In Niger, customers use our concrete mixing plant to produce concrete blocks, or set up their own concrete supply company, and some customers use it to build housing and other projects in the capital Niamey. If you need to buy a concrete batching plant in Niger, you should contact us, we have extensive experience and perfect equipment.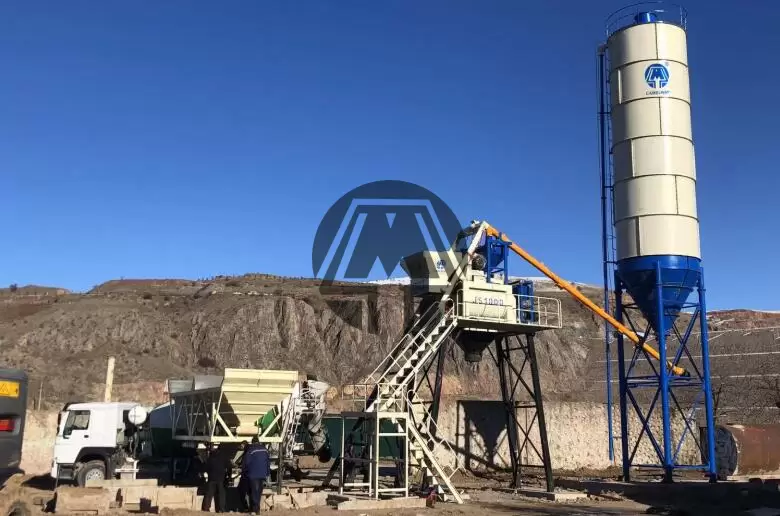 Now I'd like to introduce you to some of our best-selling concrete batching plant.
HZS25 Stationary Concrete Batching Plant
Maximum production capacity is 25 cubic meters per hour, equipped with a twin haft concrete mixer JS500, modular design, the shortest installation time is 5 days, can be used to produce concrete and mortar mixtures. Various components available for choose for different grade of concrete.
YHZS25 Mobile Concrete Batching Plant
A fully mobile concrete batching plant that mounted on wheels, not a fake mobile concrete batching plant. It can be moved using a trailer, can produce quality concrete anywhere. Maximum production capacity of 25 cubic meters per hour.
About US
Camelway offers Concrete Batching Plants and Construction machinery in Niger and all over the Africa, We were founded in 1983. We have customers in Niger and many countries in Africa, and have office in Africa for better after service. We are committed to providing customers with better concrete plant and better after-sales service. Before you buy a concrete plant, you may wish to contact us, we will definitely give you a satisfactory answer.