JS2000 Concrete Mixer
JS2000 Concrete Mixer
JS2000 concrete mixer is one of the large twin shaft concrete mixer machines manufactured by CamelWay Machinery. It can be used for the mixing of concrete, light aggregate concrete and mortar at various concrete ratio. It is a type of advanced and reliable large concrete mixer machine mainly used for most large construction site. JS2000 concrete mixer machine adopts precision machining parts, high-quality wear-resistant alloy casting parts.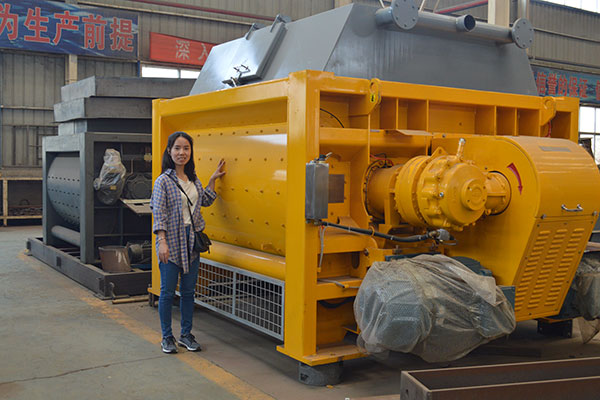 Product Details
Planetary reducer. The structure is relatively compact, the return gap is small. It has the characters of high precision, long life and large rated output torque.

Fully automatic oil pump. Automatic lubrication system, separate pump core at four shaft end, good pressure balance, good sealing effect.

Shaft end sealing. Shaft end sealingmainly consists of wear-resistant rubber, labyrinth seal and floating seal multi-seal combination. The structure is solid and reliable and durable,and do not leak pulp. All seals are easy to disassemble and replace, making it more suitable for all kinds of bad working conditions. The working lifetime is twice long as the traditional shaft end sealing.

New design mixing tank. As a standard design, the JS2000 concrete mixer is equipped with a high quality hexagonal mixing tank with the best torsion and bending strength. The hexagonal mixing tank facilitates the position of the agitator arms more easily and is arranged in a helical shape to achieve optimum mixing.

Wearing parts. The mixing arm adopts high strength wear-resistant steel castings and oval design to ensure smaller material resistance, more smooth flow, thick solid and long service life. Lining adopts thicker design, and the material adopts high chromium wear alloy cast iron that has excellent wear resistance and impact resistance.
Features
High Performance Mixing

The blades in the mixing tank are set in a scattered form, so that it can fully mix the concrete components and can also make the mixture get a fast and uniform mixing; Camelway twin shaft mixer is also equipped with advanced multiple productive layer and wind pressure sealing protection device for mixer shaft end, which can effectively terminate the slurry leakage phenomenon.

Sophisticated mixing shaft bearing hole processing

It uses the large Computerized Numerical Control (CNC) coordinate boring machine to produce the shaft bearing holes so as to ensure its coaxiality and accuracy.

Sand blasting and polyurethane coating techniques

The stoving varnish technology makes the appearance of mixer more bright and aesthetic and the sand blasting and polyurethane coating techniques make Camelway twin shaft mixer more durable.