JS3000 Concrete Mixer
JS3000 Concrete Mixer
JS3000 Twin Shaft Concrete Mixer has the advantages of excellent performance and exquisite technology, has widely been used in roads, highways, bridges, dams, water conservancy and hydropower projects and other large and medium sized construction engineering or precast concrete components.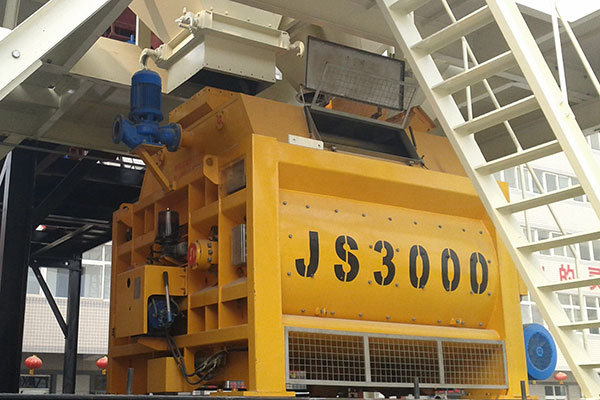 Product Details
Mixing System

The blades in JS3000 mixing tank are set in a scattered form, so that it can fully mix the concrete components and can also make the mixture get a fast and uniform mixing; three-dimensional mixing technology offers an intense mixing, which can effectively avoid the journal sticking problem of traditional mixer.

Shaft End Sealing System

For horizontal shaft concrete mixer, the mixer shafts are always in the concrete admixtures with high corrosivity, so if there is no reliable shaft end sealing device, they may be damaged within a short period that in serious cases can cause mortar leakage so as to influence the gradation of the concrete. Camelway JS3000 twin shaft mixer adopts multiple productive layer shaft end sealing system to effectively avoid the mortar leaking.

Hydraulic Driving System

The discharge gate controlled by hydraulic drive system has stronger power than traditional pneumatic drive system to avoid the phenomenon of cannot open the door because of lacking insufficient pneumatic power; it can also detect and regulate the opening position of the discharge gate in order to achieve automatic control for discharging speed.
Features
High Efficiency. Increase the number of mixing arm and adopt 90° slop setting angle arrangement. Adopt curved mixing blades to make the stirring more intense, more fully, and can be more stable in a shorter time. Equipped with a strong motor, transmission, shaft side, hydraulic automatic discharge mechanism, it can improve the mixing efficiency of more than 30%.

Intelligent production process. Continuous production can make sure that the production efficiency can be increased by 10% and operating energy consumption can be reduced by 10% or more.

Main components are imported. Such as reducer, bearings, seals, etc. This will greatly improve the service life of the mixer to reduce the failure rate, and the working is more reliable.

Low Energy Consumption. It uses the structure design of large space and low volume utilization rate, so the spacious space can make the mixing process much easier; the blades can continuously push the material to form a high-speed circulation with a small impact load and low energy consumption; after the rigorous comparison test, it can save over 15% energy consumption than the traditional mixer host.

Long Service Life. JS3000 concrete mixer adopts imported advanced components and the diameter of its mixing tank is half smaller than the vertical mixer with the same capacity. The rotation speed of it is half slower than the vertical mixer, so the abrasion degree of its blades and liner plats is smaller and its service life is longer.