On December 20, news from the construction site in Nigeria, a HZS60 Concrete Batching Plant manufactured by Camelway Machinery completed the installation work and successfully tested with the help of the installation engineers. This installation work is under the responsibility of Camelway Machinery Service Department, the customer highly praised with the professionalism of the installation engineer and the camelway's thoughtful service.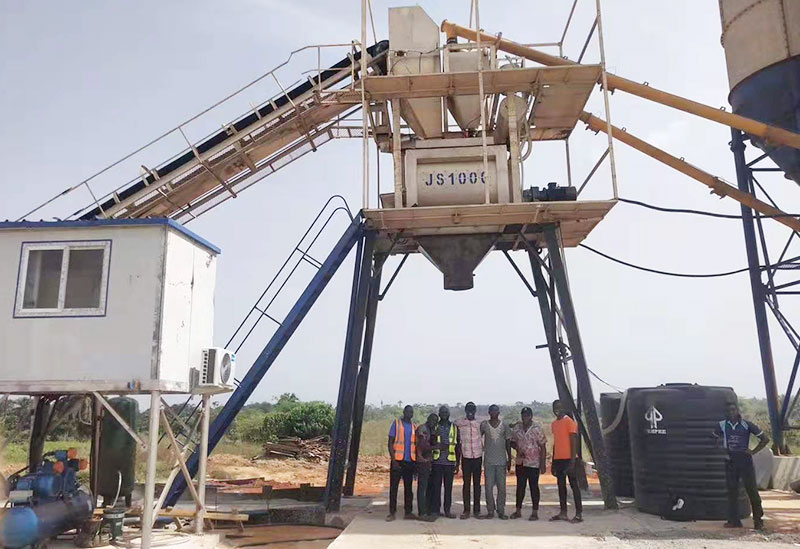 It is reported that this customer is from a large local construction company in Nigeria that has contracted a large number of engineering projects locally. In order to cope with the upcoming expansion of the business, it is necessary to purchase a set of concrete batching plant. In terms of equipment selection, they have compared concrete batch plant from Europe, Turkey and Japan. "Manufacturers from Europe and Turkey also have good equipment, but I prefer Chinese goods because they can meet our technical requirements and fully consider our need to reduce investment costs. Camelway Machinery's HZS60 is better than other suppliers from China, I am very confident in their products, "said Joseph, the company's principal.
The HZS60 concrete batching plant of Camelway Machinery is a set of popular concrete batching plant. It uses JS1000 twin shaft mixer, which can mix 1 m³ concrete mixture per batch. The HZS60 has a higer production efficiency than the HZS50 whereas has a same concrete mixer, so many construction companies choose it.