Advantages And Disadvantages Of Small Concrete Batching Plant
Concrete is the most commonly used building material. It is extremely durable, functional and has many of the features necessary for building materials. Therefore, the development prospects of concrete batching plant equipment for many years are still hot. Today, many companies are manufacturing concrete batching plant equipment. The most popular are small concrete batching plant. Due to this inherent design and various characteristics, small concrete batching plants for the production of concrete have both advantages and disadvantages. First of all, pay attention to production capacity. It is slightly lower than the traditional medium and large concrete batching plant. For example, Camelway manufactures and sells compact concrete batching plants with productivity ranging from 25m3 / h to 75 m3 / h. For a small construction site, this may be enough, but for large-scale industrial projects, this is not enough. In addition, the advantages of concrete production equipment include its compactness, and the time required to prepare for work is very small, and the cost is much lower than that of concrete batching plant in traditional industries.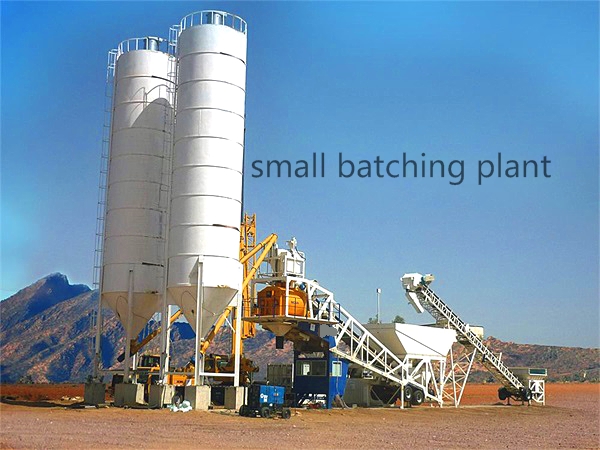 Parameters and components of small concrete batching plants
A typical small concrete batching plant consists of the following components: a frame with a concrete mixer, a skip lift, a hopper for placing aggregates, a concrete mixing device, a distributor for regulating the flow of water and various additives, and a cement control distribution. a compressor that generates pressure in a supply system; a filter element, a cement silo.
Concrete plants vary in degree of automation. For example, the HZS25 Concrete Batching Plant is only equipped with a hopper system for conveying bulk materials, which greatly speeds up the production process. Various actions can be performed by means of human muscle strength or using pneumatics. Especially in Camelway's other products, the product can be equipped with a variety of options according to customer requirements. For example, the HZS25 concrete batching plant can transport about 25 cubic meters of concrete per hour.
The following automation options are available: Siemens Control Panel, which allows you to program the plant to perform certain operations. A Dell printer is also included in the kit. Sensors - chemical additives, aggregates, cement dispensers.
Concrete Batching Plant Factory power consumption
Almost all small concrete batching plants of this type use electric motors to drive the equipment. Therefore, manufacturers always pay special attention to the power consumed by the relevant types of equipment. Usually, it usually does not exceed 20 kW. The HZS25 plant produces 20-25 cubic meters of concrete per hour and consumes 12.5 kW / h of power, of which: dumper engine - 5.5 kW / h; concrete mixer - 6.6 kW / h; therefore, the higher the productivity of the plant, its consumption The power is greater. In order to ensure normal continuous operation, a three-phase wire is required.
There are now a large number of manufacturers of small concrete equipment. This allows you to precisely select the type of purchase you need. The most important thing to consider when choosing a model is its strengths and weaknesses: simplicity and complexity of transportation and installation, work comfort, and performance. It is worth mentioning that reliable and large manufacturing companies have long been in the market and have proved their strength. This will prevent various problems from occurring during factory installation and production setup.