Selection method of Aggregate Bins
Selection method of Aggregate Bins
The aggregate bin has different model, number of silos and metering method. The following will introduce the methods on choosing aggregate bin of small concrete plant.
The aggregate bin includes aggregate silo, weighing hopper, belt, pneumatic butterfly valve, cylinder, weighing unit, vibration machine and other components. It usually has the following three classification methods.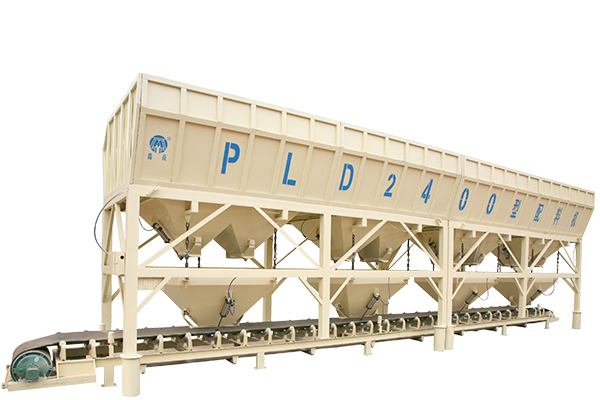 According to the silos' number of the aggregate bin, it can be divided into two silos aggregate bin, three silos aggregate bin, and four silos aggregate bin. This classification is mainly based on the number of silos in the aggregate silo. The basis for selecting the number of aggregate silos is the number of aggregates in the concrete formulation.
Aggregate Bins type
According to the model, the aggregate bin divides into PLD800, PLD1200, PLD1600, PLD2400, PLD3200, PLD4800. The number in the model number corresponds to the capacity of the weighing hopper. The capacity of the weighing hopper needs to match the feeding capacity of the concrete mixer. Thus, the feeding capacity of concrete mixer is one of the key parameters for selecting aggregate bin.
According to the metering method, it is divided into the cumulative weighing aggregate bin and the independent weighing aggregate bin. The cumulative weighing aggregate bin is mostly used in engineering concrete batching plants. It is characterized by simple construction and low price; the weighing process is weighed in a predetermined order.
Camelway, as a construction equipment manufacturer, supplies concrete batching plants, crushing plants, components of concrete plants, etc.